.
LONDON /
The Guardian
/ Crime / April 26, 2011
Elderly couple died after 'ferocious' hammer and knife attack
Giuseppe and Caterina Massaro were found dead in their Wolverhampton home by their granddaughter on Good Friday
By Barry Neild
and agencies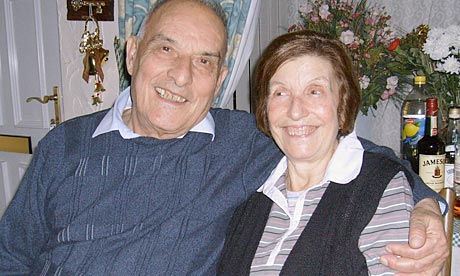 Giuseppe and Caterina Massaro died from multiple injuries,
and were found lying dead in bed.
Their home had been ransacked, and their car had been stolen.
Photograph: West Midlands police/PA
........
Grandson Richard Booth, 22, said the pair had worked hard to raise two daughters and seven grandchildren, and were due to become great-grandparents to twins in the summer.
"My grandfather and grandmother were loved by the many lives they touched. They were often described as a charismatic and charming couple," he said. "My nanny Caterina was a genuine and honest woman. She made the best home cooked lasagna and pizza.
"My grandad Pepe was a honourable and down-to-earth man. Down the local pub he was the first one to take his wallet out and buy the rounds. The home which brought so much warmth and comfort to us has been so abruptly destroyed."
To read the full report, click here
© Guardian News and Media Limited