NEW YORK, NY /
ABC News
/ News / Politics / July 8, 2011
Former First Lady Betty Ford Has Died ABC News Has Learned
By Martha Raddatz
(@martharaddatz) and
David Reiter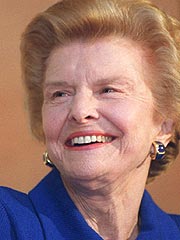 Betty Ford, wife of former President Gerald Ford and the founder of the Betty Ford Center for substance abuse and addiction, has died at age 93.
In public, she was one of the most visible and outspoken first ladies in history. In private, she triumphed over serious personal adversity.
Anna Moore Butzner/The Grand Rapids Press/AP
She was married to Gerald Ford for 58 years. Shortly after becoming president in 1974, Ford said, "I am indebted to no man and to only one woman, my dear wife."
A Dancer and Fashion Model
Elizabeth Bloomer, who was known from childhood as Betty, was born in 1918 in Chicago and grew up in Michigan.
From a young age, she had a passion for dancing. She studied dance under Martha Graham in New York, working as a fashion model to finance her studies. She joined Graham's auxiliary troupe and eventually performed with the company at Carnegie Hall.
Married and divorced in her 20s, in 1947 her life changed forever when she met Gerald R. Ford. They married in 1948, two weeks before he was elected to his first term in Congress.
As Betty recounted at the time, the wedding was delayed until shortly before the election because, "Jerry was running for Congress and wasn't sure how voters might feel about his marrying a divorced ex-dancer."
The Ford's unlikely rise to first family started in 1973, just as they were planning on retiring from Congress. President Richard Nixon selected Gerald Ford to serve as his vice president after the resignation of Vice President Spiro Agnew.
On Aug. 9, 1974, Nixon stepped down following the Watergate scandal. Ford would become the 38th president of the United States. Betty was at his side.
It was something the couple neither expected or wanted, Betty recalled in her memoirs. "Jerry did not want this," she wrote. "I certainly did not want it, and neither did our children. But the main point was, it was best for the country."
The first lady helped the nation restore its faith in the presidency following the Watergate scandal, once saying, she wanted the White House to sing again.
Saw Role as Goodwill Ambassador
Betty Ford saw her role in the White House as official hostess and a goodwill ambassador.
"In terms of the White House atmosphere, there's no doubt that Mrs. Ford wanted to, in her own words, let open the windows" said Richard Norton Smith, a presidential historian and one of the eulogists at the funeral for President Ford.
"Early on, she went to the head usher and asked why the staff didn't return her good morning greetings. Did they dislike her? Not at all, he replied; it was just that they were accustomed to the more formal atmosphere prevailing under the Nixons. Thereafter Mrs. Ford's daily greetings were verbally reciprocated," Smith told ABC News.
Advocate for Women's Health
A month after moving into the White House, Betty was diagnosed with breast cancer and had a mastectomy. She became an advocate for breast cancer research and early detection. Asked about her illness, she said, "I'm very glad that I brought cancer to the forefront."
Betty was also outspoken on women's rights issues. She supported the equal rights amendment and the legalization of abortion.
She became famous for her candor. In an interview on CBS' 60 Minutes, she talked about marijuana, equal rights for women, abortion and the possibility of a premarital affair for her daughter, Susan.
Went Public with Addiction Battle
Click here
for complete report
Copyright © 2011 ABC News Internet Ventures.
__________________________________________________________
Credit:
Reports and photographs are property of owners of intellectual rights.
Seniors World Chronicle
, a not-for-profit, serves to chronicle and widen their reach.