COLOMBO, Sri Lanka /
The Sunday Times
/ News / August 7, 2011
The society that brags about its high life expectancy is shamefully negligent of its elderly
Nadia Fazlulhaq reports
There are some 250 homes for the elderly in the country – and 1.9 million elderly persons. The chronic shortage of care, accommodation and other facilities for senior citizens should be cause for concern among all civic-minded persons.

The 1.9 million senior citizens – persons 60 years and over – constitute almost 10 per cent of the total population. The figure is expected to increase to 25 per cent in the coming
years.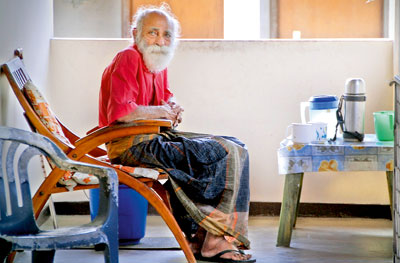 While the number of senior citizens increases by the year, the number of applications for places at homes for the elderly is also increasing. The problem is that elderly homes are in short supply, and are not increasing in number to meet demand.

Applications are pouring in at elders' homes, and thousands of applicants are on a waiting list. The Little Sisters of the Poor, in Darley Road, Colombo 10, is a home for elders, run by nuns of the Roman Catholic Church.
Finding a place in a home for an elderly person is a challenge.
Photo: Sanka Vidanagama
The home, which is managed almost entirely on charity, can accommodate up to a maximum 98 persons.
"But we get more than 300 applications a year," Sister Irine Bernadette, who is in charge of administration at the home, told the
Sunday Times
. "This is the case at all elders' homes. Children of elderly persons plead with us to find accommodation for their parents, but we are helpless. And often, when we do have a bed vacant, and we call, we are told that the elderly applicant has already passed away."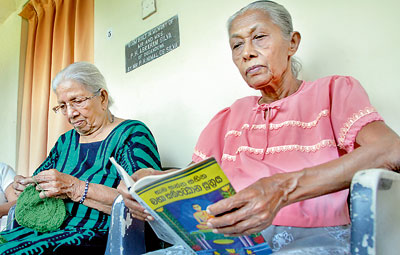 According to Sister Irine, the home runs on public charity and money collected by nuns. The state gives Rs. 10 per day per elder. At the Mother Teresa's Home for the Dying and Destitute, another Roman Catholic charity institution, there are 106 elderly persons. This is a home for old people with no family, home or income, and who end up on the streets, abandoned. There are no vacant beds here..
Many say the state should be doing a lot more for the elderly.
Wasantha Silva, treasurer of the All-Ceylon Buddhist Congress Senior Citizen's Home, in Battaramulla, says applications for accommodation are on the increase, especially from Sri Lankans living overseas who are looking for homes and persons to take care of their parents here.

Professor Siri Hettige, of the Department of Sociology, The University of Colombo, says migration is the main reason today's elders are facing homelessness. "In a dynamic environment we see people on the move, travelling and migrating, and these people cannot always take their parents along with them," Professor Hettige said.
______________________________________________________________
"We have failed to give our elderly better access to health care. In developed countries, old people enjoy a decent standard of living."
– Professor Siri Hettige, Department of Sociology, The University of Colombo
______________________________________________________________
"Our agrarian economy is changing, and people from all over the country, even the remotest villages, are coming to the towns and the city in search of jobs. There are two million Sri Lankans of working age employed overseas. This number will increase with young people going overseas for higher education, most of whom will settle down in those countries."
Being old and alone is one thing; being old, alone, and poor is another. An estimated 23 per cent of the country's elderly population lives below the poverty line. "The children of these elderly people are under economic pressure themselves," Professor Hettige said. "They find it difficult to balance the demands of both their offspring and their elderly parents. Some 80 per cent of the country's elderly have been engaged in farming, fishing and small trades all their lives, and these people don't go on retirement.
"In other countries, people of retirement age spend their time in leisure activities, or volunteer work. In Sri Lanka, people of retirement age have to find some way to generate an income in order to survive."
According to Professor Hettige, neither the state nor the community has done much to help those of retirement age to lead active, productive lives.
"We have failed to give our elderly better access to health care. In developed countries, old people enjoy a decent standard of living. What is the point of Sri Lanka bragging about the country's high life expectancy when we neglect our elderly?"
Life expectancy levels have been rising over the years. In 1946, life expectancy in Sri Lanka was 43 years; in 1998 it was 60 years. Today, life expectancy is 70 years for males and 76 for females.
Professor Hettige says a census should be held to ascertain the needs of the elderly, according to their income, medical support, and residential care requirements.
HelpAge Sri Lanka is a non-governmental organisation, set up in 1986, with a mission to raise the quality of life of the country's elderly. HelpAge executive director Samantha Liyanawaduge told the Sunday Times that the elderly are entitled to a public assistance allowance of a niggardly Rs. 150 a month. This allowance, also known as "pin-padi", is usually spent the day it is received.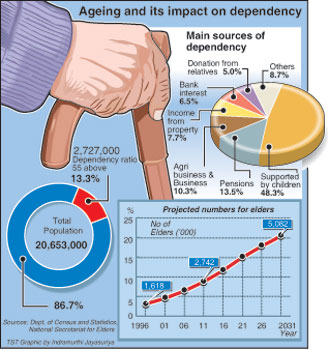 "Most elders spend the Rs. 150 buying candy for their grandchildren," Mr. Liyanawaduge said.
"It is the one day in the month they have some purchasing power. We should launch a study on how we should tackle poverty among the elderly. Most of our elderly have contributed to the economy. They deserve a decent monthly allowance from the state."
Mr. Liyanawaduge said the Elders Protection Act empowers Grama Niladaris to set up elders' committees. These committees can provide a forum for the elderly to get together and become involved in community work, he said.
The annual Budget should set aside more for the elderly, according to Ms. J. Krishnamoorthy, director of the National Secretariat for Elders, which comes under the Ministry of Social Service and Social Welfare.
Meanwhile, the National Secretariat for Elders has introduced an elders' sponsorship programme. Members of the public are invited to sponsor an adult from a low-income community with a minimum monthly contribution of Rs. 250. The sponsorship programme comes under the Ministry of Social Services.
According to R. M. S. Ratnayake, Secretary to the Ministry of Social Service and Social Welfare, the Ministry has drawn up a proposal to increase the public assistance allowance to Rs. 1,000 per elderly person, out of the 2012 Budget, and increase the allowance for elders' homes.
© Copyright 2009 | Wieya Newspapers Ltd
___________________________________________________________
Credit:
Reports and photographs are property of owners of intellectual rights.
Seniors World Chronicle
, a not-for-profit, serves to chronicle and widen their reach.