LAGOS, Nigeria /
Business Day
/ Art & Life / September 2, 2011
An evening of jazz with
Hugh Masekela, Alex O'Neal, Wynton Marsails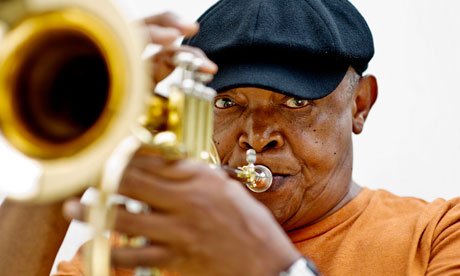 Hugh Masekela.
Photograph by courtesy: Sarah Lee for the Guardian
Looking resplendent even as old age is fast catching up with him, Hugh Masekela, South Africa's legendary trumpeter, fugelhornist, cornelist, composer and singer, still got the push and sparks of old, as he performs on the Dinaledi Stage on Friday, August 26.
Without doubt, his music is one of South Africa's best with his distinctive features, vivaciousness and dexterity. His songs exude the culture and general lifestyle of South Africa. The American influence on his style is still visible after sojourning in the United States as a result of the 1960 Sharpeville Massacre, Masekela had left he country and soon made a name for himself in the US.
In 1981, Masekela (
born April 4, 1939
) moved to Botswana where he started the Botswana International School of Music. Masekela finally was able to return home following the release of nelson Mandela in 1990. Masekela interestingly, continues to make and maintain a very active tour schedule, spreading his musical message of peace, harmony and unity throughout the world.
Masekela is one of the great South African musicians who performed at the Newtown Precinct in recent years, a place that has become a cultural hub in South Africa and a tourist hotspot. Major attractions include the Museum Africa and the Market Theatre. However jazz lovers had the privilege of stopping by at the Horror Cafe (music and street poetry), Songwriter's Club, Carfax and the Bassline.
Little wonder a highly enthusiastic Tu who was to later give a brilliant musical account of herself admits that, "My favourite spot is Sophiatown in Newtown, especially on Saturday nights when I go to mingle with different kinds of people, watch and listen to local quality music by young bands."
Of course, Greenside is one of Joburg's favourite weekend destinations, with streets lined with some of the city's best eateries. The area is renowned for its lifestyle and décor shopping and is one of the best places to spend an early-spring Johannesburg afternoon. The streets are best explored on foot. Over a few hours; exploring storeS and stopping for pavement-side refreshments and snacks along the way.
Many of South Africa's great Jazz musicians have performed and found fame in Newtown. That again explains why 'The Joy of Jazz 2011'brought South Africa's great musicians back to Newtown as they performed in seven venues this year - Conga Stage which is the brand new main stage featuring upbeat jazz and world music, Dinaledi stage, Mbira Stage, Bassline, Sophiatown, Shikisha and Nikki's Oasis.And so it was with the melange of sound at the Standard Bank Joy of Jazz which saw international artists join the legendary Wynton Marsalis at this year's South Africa premier jazz-travaganza.
Leading the bill of Jazz legends who were on parade since the show kicked off on August 25, were artists from America, Brazil, Croatia and Belgium, all of who shared billing with performers from South Africa and the African Diaspora.
From the American pack included Dee Dee Bridgewater, McCoy Tyner, Geralds Veasley, Jeff Lorber, Alexander O' Neal and Frank McComb. They were joined by Brazil's Tania Maria and Belgium's Brussels Jazz Orchestra who performed with South Africa's Tutu Puoane.
South African jazz greats, such as Hugh Masekela and Sibongile Khumalo were also part of a strong South African line up, including Mango Groove, Simphiwe Dana, the African Jazz Pioneers, Tu Nokwe, Kwela Tebza, Victor Ntoni, McCoy Mrubatha, Ringo Julius Schultz and pianist, Bokani Dyer, the 2011Standard Bank Young Artist Award winner for jazz.
Over the course of a career that has spanned four decades, Grammy and Tony Award-winning jazz diva, Dee Dee Bridgewater has certainly paid homage to monumental figures of the music world, recording albums dedicated to Ella Fitzgerald (the double Grammy Award-winning Dear Ella, 1997), Horace Silver (Love and Peace: A Tribute to Horace silver, 1995) and Kurt Weill (this is New, 2002). Bridgewater takes great pride in producing each of her CDs herself and all of them have received Grammy nominations.
Arguably, modern jazz has been shaped by the music of McCoy Tyner. His blues-based piano-style, replete with sophisticated chords and an explosively percussive left hand has transcended conventional styles to become one of the most identifiable sounds in improvised music. His harmonic contributions and dramatic rhythmic devices form the vocabulary of a majority of jazz pianists. Tyner has released nearly 80 albums under his name, earned four Grammys and was awarded Jazz Master from the National Endowment for the Arts in 2002.
Jeff Lorber is a Grammy Award-nominated keyboardist, composer and record producer. After leading his own group, The Jeff Lorber Fusion, he went on to pioneer the smooth jazz genre in his solo career.And for much touted, Wynton Marsalis who gave an outstanding and astonishing musical account of himself at the Emperors Palace on Thursday, the legendary trumpeter- winner of nine Grammy Awards and the first jazz musician to win the Pulitzer Prize for Music – is arguably the biggest jazz artist to come to South Africa. Ever cool, calm and calculated looking Marsalis, evidently has come of age. With loads of youthful energy, the very handsome, clean shaved and youthful looking Jazz buff, appreciates God for the level of success he's achieved so far in his musical career.
Disclosing how he was able to get Marsalis down to Mandela's home country, Event producer, Peter Tladi of T-Musicman tells Saturday Moment that, "Securing Wynton Marsalis is a real coup for the festival and firmly reconfirms Gauteng's status on the international jazz map. We are delighted with the range and caliber of artists we have this year and we predict 2011 festival will be a sell-out like last year."
Alexander O' Neal, an American R&B singer, performed on the Mbira Stage on Friday, August 26, and Saturday, 27. Loking obviously a little bit on the fat side with a gait, that betrayed his walking steps, some of O'Neal's best known songs are: 'Fake, Criticize, Saturday Love, and Never Knew Love Like This.' O'Neal was recruited into Flyte Tyme, a band that included Jimmy Jam, Terry Lewis and Monte Moir. O' Neal released his self-titled debut effort in 1985. It included three singles that reached the top 20 of the R&B Singles Chart He also scored his first R&B top 10 single with Saturday Love, a duet with cjherrelle. In 1992, his first greatest hits album, 'This Thing Called Love: The greatest hits of O'Neal was a top 10 album in the UK.
Copyright © 2011 Business Day
____________________________________________________________
Credit:
Reports and photographs are property of owners of intellectual rights.
Seniors World Chronicle,
a not-for-profit, serves to chronicle and widen their reach.