LONDON, England /
The Guardian
/ Education / November 14, 2011
More elderly are taking up government skills programme, but youth unemployment is expected to hit one million
Allegra Stratton, political correspondent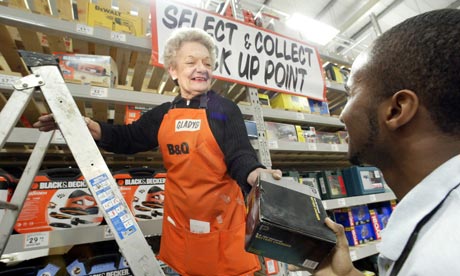 More elderly people are taking up apprenticeships to learn new skills.
Photograph: Frank Baron/The Guardian
The government's £1.4bn skills training scheme, intended to ameliorate youth
unemployment
, has seen a near 900% increase in the number of
apprenticeships
begun by those aged 60 and over.
The news comes ahead of figures to be published on Wednesday which are expected to show the numbers of
young people
out of work hitting one million.
Analysis of data published at the end of October shows that over the last year there has been an increase of 18% for apprenticeships begun by 18-year-olds and a 22% rise in those begun by people aged 19-24.
But the rises for those not regarded to be in the apprenticeship age bracket are larger. For those aged between 25 and 34, there has been a 179% increase; a 283% increase for those between 35 and 44; and for those aged 45-59, a 396% increase, according to analysis by the specialist publication Further Education Weekly.
For those aged 60 and over, there has been an 878% increase – from 400 signing up in the year 2009-10, to 3,910 in the last year.
The October figures showed a huge jump, with 163,000 more apprenticeships beginning in the last academic year compared with the previous one. In May the scheme was placed central to government attempts to tackle youth unemployment.
A speech by deputy prime minister Nick Clegg on the subject scheduled for Monday has, however, been pushed back.
The Institute of Public Policy Research thinktank has joined the ranks of those concerned the policy is not sufficiently targeted, claiming employers are "using apprenticeship funding to subsidise training for workers over the age of 25" and arguing for the apprenticeship "brand" to be reserved for young people.
The IPPR report says that over the last year 40% of apprenticeships went to over-25s and that out of the 126,000 apprenticeships created in that period, just 37,000 went to people aged 16-24. The report includes a chapter by the minister in charge of the policy, John Hayes.
The prime minister recently told the Commons: "We want to make sure that apprenticeship schemes are aimed at young people who need work and also aimed at the higher level – people going on to get degree-equivalent qualifications – so it is not seen as a second best."
In a leaked Department for Business document, seen by the Guardian, officials acknowledged that the profusion of apprenticeships for different age groups could "undermine the brand".
The chancellor, George Osborne, is thought to be anxious about the low numbers of 16- to 18-year-olds among the increased numbers of apprentices and that the largest increase has come in low skilled placements. The leaked document admits: "Older learners [are] a key reason why a much larger number of starts could be achieved in academic year 2010-11."
The business secretary, Vince Cable, has let it be known he is not overly concerned with the current spread of age groups beginning apprenticeships.
IPPR director Nick Pearce said: "Apprenticeships can help young people break out of the unemployment trap by offering additional general education, the chance to learn the 'soft skills' that employers often demand and specific job-related training.
"But employers have become increasingly reluctant to hire school-leavers. Employers need more support to set up apprenticeship programmes, particularly when they are hiring apprentices for the first time."
© 2011 Guardian News and Media Limited
__________________________________________________________
Credit: Reports and photographs are property of owners of intellectual rights.
Seniors World Chronicle, a not-for-profit, serves to chronicle and widen their reach.