SEATTLE, Wa /
The Seattle Times
/ Health / November 1, 2011
By Kim Lamb Gregory
Scripps Howard News Service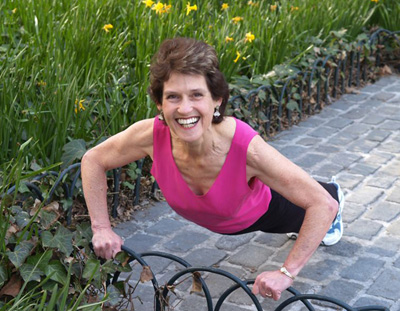 Senior sex expert Joan Price challenges anybody who cringes at the idea of older adults having sex.
"If I encounter the 'ick' factor, my response is always: 'At what age do you plan to retire YOUR genitals?'" said Price, who turns 68 in November.
One of the primary myths Price wants to shatter is the idea that seniors have lost interest in sex. Seniors are interested and need more information about how to enjoy it with their changing bodies, she said.
"It is harder for seniors to find sexual information related to them than it is for 10-year-olds," Price said. "I take an activist stand that we do need more sexual information for seniors."
Statistics support Price's contention that older adults have not given up on sex. A comprehensive national survey of senior sexual attitudes, behaviors and problems was conducted in 2005 and 2006 by the National Opinion Research Center along with principal investigators at the University of Chicago. More than 3,000 interviews of adults age 57 to 85 showed seniors believe sexuality is an important part of life.
Results from the university's National Social Life, Health and Aging Project, published in the New England Journal of Medicine, showed older adults participated well into their 70s and 80s.
"The ick factor is where people go: 'Eww! Old wrinkly people having sex? Yech!'" Price said.
That's changing, partly because of the large number of baby boomers hitting their senior years, but there's still a long way to go, Price said.
"Thinking only young bodies are sexy is something we've been taught by our youth-oriented culture, and we don't need to keep accepting it," she said.
AARP relationship expert Pepper Schwartz thinks technology and culture also are influencing attitudes about sex and seniors.
"Technology has allowed people to look younger longer. New hips and knees. It helps people feel better about themselves," she said. "There's online dating. It's helping people find partners. It's one thing to want to be sexual. It's another thing to find a partner."
The University of Chicago study showed that overall health was much more important than age when it came to sexual activity. As health declined after the early 70s, so did sexual activity. Of those who remained sexually active, nearly half reported a sexual problem.
Lack of desire was a problem for 43 percent of women, with 39 percent reporting vaginal dryness. Thirty-seven percent of men reported erectile dysfunction. Thirty-eight percent of men and 20 percent of women had discussed their sexual problems with a doctor.
Price said she's trying to offer information in her books, including 2006's "Better Than I Expected: Straight Talk About Sex After Sixty" and this year's "Naked at Our Age: Talking Out Loud About Senior Sex," both from Seal Press.
Price's unlikely career in senior sex was the result of two automobile accidents spaced 16 years apart near her home in Sebastopol, Calif., about 50 miles north of San Francisco. The former English teacher realized her dedication to exercise and movement helped her heal, she said.
The joys of physical movement led her to teach a line-dancing class. About 10 years ago, she was teaching a line-dancing class and a 64-year-old man walked in.
He "turned out to become my great love," Price said, noting they didn't kiss for nine months. "But after that, there was no stopping us. Neither of us had any idea sex could be so good."
_________________________________________________________
Credit
: Reports and photographs are property of owners of intellectual rights.
Seniors World Chronicle,
a not-for-profit, serves to chronicle and widen their reach.