LONDON, England /
The Guardian
/ Society / Life & Style / March 6, 2012
Fifty years after public first warned about cigarettes, doctors call for price rises, plain packaging and anti-smoking campaign
Sarah Boseley, health editor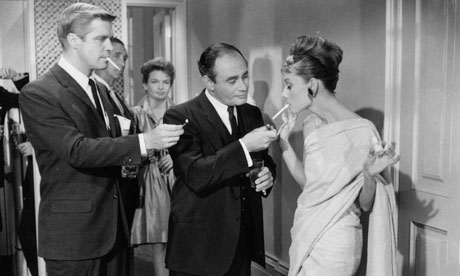 George Peppard and Martin Balsam offer to light Audrey Hepburn's cigarette in
Breakfast At Tiffany's. Doctors called on the government to curb smoking in films.
Photograph: Paramount/Getty Images
Fifty years after its groundbreaking report in which doctors first tried to talk directly to the public about the catastrophic dangers of
smoking
, the Royal College of Physicians warns today that the death toll from cigarettes will not fall unless the government takes decisive action.
On the anniversary of its celebrated 1962 report on smoking and health that started to turn the tide, the RCP says more than six million people have lost their lives to tobacco and more than a fifth of the population still uses cigarettes.
Although the price of a packet of cigarettes has steadily increased, it is now 50% more affordable than in 1965, said Professor John Britton, chair of its tobacco advisory group. Prices are further cut through discounting and illicit supply.
"The real failure is political leadership," he said. "Some of our governments in the past have been extremely close to the
tobacco industry
. Margaret Thatcher left office and took up a three-year role with Philip Morris, and Kenneth Clarke, who had been a health secretary, became a director of British American Tobacco."
Tony Blair's government later delayed enforcing a ban on tobacco sponsorship in Formula One after a controversial £1m donation to the Labour party by Bernie Ecclestone.
On Tuesday Andrew Lansley, the health secretary, will face calls for price rises, plain packaging, prime-time TV campaigns and curbs on smoking in films at a one-day conference at the college, called to examine progress over the 50 years. The government is to announce onTuesday a campaign highlighting the damaging effects of secondhand smoke
The college says that the 20% of people now smoking stand to lose 100m years of life between them. Even though smoking rates have fallen substantially and smoking is now something of a pariah sport since it was banned in bars and restaurants, around 10 million people in the UK still have the habit. Half of those will die because of it.
Dr Mike Knapton, associate medical director at the British Heart Foundation, agrees that plain packaging should be introduced – a measure the industry is fighting hard against.
"We need to do more to discourage children and young people starting smoking in the first place," he said. "The evidence shows young people are influenced, and sometimes misled, by glitzy cigarette packaging, so stripping packs of their attractive colours and logos by introducing plain, standardised packaging will help lessen the lure of smoking to a new generation."
Although the ban on smoking in enclosed public places, which took effect in 2007, has changed perceptions, Knapton said tobacco "remains the UK's biggest cause of avoidable early death, so it's right that the focus is now shifting to the effect of smoking in the home and confined spaces such as cars, especially where children are present".
Britton also wants action against smoking in films and on TV. "There is a terrific amount of smoking imagery in films passed suitable for 12-year-olds," he said. "In Gavin & Stacey's Christmas special they were sharing a cigarette from a branded pack of Marlboro outside the house."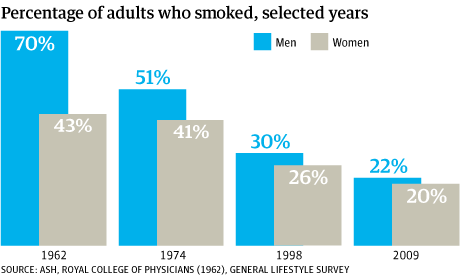 The 1962 RCP report was a significant milestone in the relationship between doctor and patient, marking the moment when physicians began to promote public health more seriously.
Richard Doll and Austin Bradford Hill provided the definitive study in the 1950s that demonstrated the lethal nature of tobacco by following a cohort of smoking and non-smoking doctors. But the study had an ambivalent and even hostile response in some quarters of the government, media and society.
With social barriers coming down in the 1960s, doctors at the RCP felt it was time to speak out to the public they would otherwise encounter in their consulting rooms with lung disease.
The public responded, and the ministry of health was inundated with anti-smoking ideas in the following years.
In an article on the influence of the 1962 report in the Bulletin of the History of Medicine, Virginia Berridge, professor of history at the London School of Hygiene and Tropical Medicine, cited a letter – now in the national archives – to the ministry of health from a D Kelly the following year. "A rhyming poster might work … 'THE MODERN BLOKE—DOESN'T SMOKE'," he wrote. "The ladies are less of a problem–but a growing one. What about 'CONTEMPORARY HAGS ABHOR FAGS' with a similar illustration of modern witches refusing temptation."
In the foreword to a booklet launched today, the RCP president, Sir Richard Thompson, looks back to a world 50 years ago "suffocated by the swirling clouds of tobacco smoke, in pubs, cinemas, trains, buses on the streets and even in hospitals and schools. Around 70% of men and 40% of women smoked. Smoking was omnipresent, accepted, established".
In 2012, we live in a world in which smoking is no longer the norm, he said. "I hope that in another 50 years smoking, like slavery, will have passed into history."
© 2012 Guardian News and Media Limited
____________________________________________________________
Credit:
Reports and photographs are property of owners of intellectual rights.
Seniors World Chronicle
, a not-for-profit, serves to chronicle and widen their reach.